Carmen is a Gorgeous but Obtuse Dance of Love and Death
Posted On May 11, 2023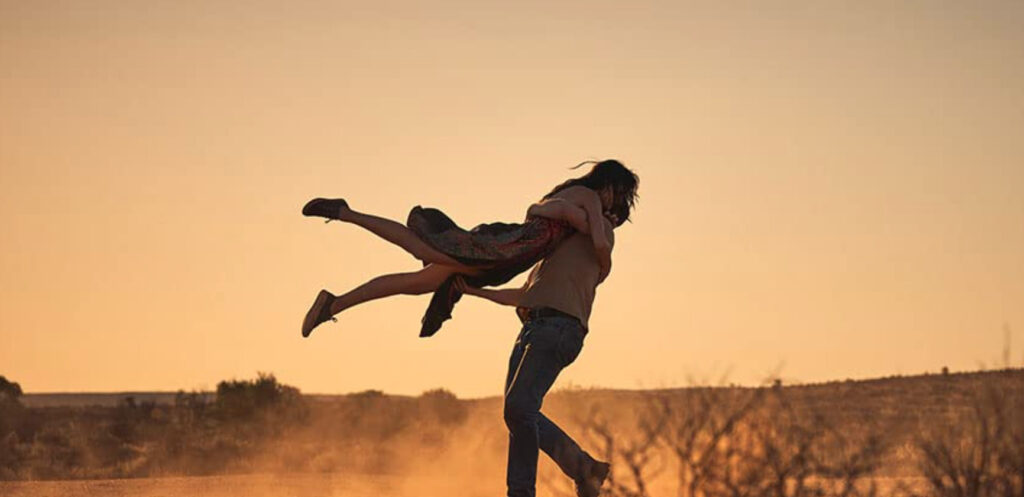 Georges Bizet's Carmen is one of the most famous operas of all time and introduced the world to an iconic femme fatale. Adapted from the novel by Prosper Mérimée, this French tragedy follows the titular seductress, a fiery cigarette girl who becomes entangled in a deadly love triangle that exposes deep divides in the class structures of 19th century Europe. The story has been adapted for the screen many times since its 1875 debut, including a memorable turn by Beyoncé in the made for TV film Carmen: A Hip Hopera. In his directorial debut, Benjamin Millepied reimagines the story once again with Melissa Barrera in the titular role. Set on the Southern U.S. Border, this version of Carmen is a tragic tale of love and sacrifice that follows a doomed couple struggling to survive in a cruel world. Millepied brings the story to life through breathtaking dance and a gorgeous score, but this update bears little resemblance to Bizet's opera and suffers from a vague and sometimes incomprehensible plot. Fortunately a gorgeous score and exquisite dance sequences somewhat make up for narrative inconsistencies and a story with very little meat on its bones.
Carmen is still grieving the loss of her mother and grandmother when she attempts to sneak across the border in the dead of night. Aidan (Paul Mescal) is a struggling combat veteran who picks up work on a cruel border patrol squad to avoid eviction. The star-crossed lovers meet in the moonlit desert after a shocking act of violence. At first uneasy allies, they slowly begin to trust each other as their fates intertwine. Running from the law, Carmen and Aidan make their way to L.A. where the headstrong dancer takes a job performing at a club run by her late mother's best friend Masilda (Rossy de Palma). Leaning on each other for support, the ill-fated couple struggle to leave their past lives behind and reinvent themselves in a burgeoning new life.
The film opens with an old woman dancing an aggressive flamenco in the middle of the desert, a fitting overture for a story told mostly through dance. Carmen adorns her head with her grandmother's blood before setting fire to her old life and venturing north to the US. Millpead's choreography brilliantly blends a variety of cultures and styles to tell a diverse story that honors the humanity of his cast. Dazzling set design, lighting, and costuming highlight the beauty and nobility of those who live on the fringes of society while capturing the social commentary that once enraged the opera's original audiences. Millepied finds beauty in unwashed settings such as a derelict oil field, a shadowy dive bar, and a covert fight club. Though stunning, this dance mostly serves to highlight the emotional beats of the story and often eschews narrative logic. The effect is more like a lovestruck fever dream that encourages us to fall in love with the intoxicating Carmen along with her stoic new beau.
Barrera proves to be a true triple threat in this complex and demanding role. Most known as the newest final girl in the Scream franchise, she excels in an altogether different type of performance that foretells an exciting career. With a singing voice as gorgeous as her dancing, she lights up the screen and audiences will find it impossible to tear their eyes away. Her onscreen love, Mescal is more subdued in an ill-defined role. He plays the relatively quiet soldier archetype well, but his character often gets lost in the magnetism of his co-star. Aiden also suffers from a poorly fleshed out backstory and feels more like a generic love interest than a substantial force in the story. Rossy de Palma steals the show as the ravishing Masilda. Her stunning eye makeup introduces the narrative and her matriarchal lens frames the action. As a gorgeous club owner and surrogate mother, she serves as both a guide for Carmen and the emotional heartbeat of this tragic love story.
While certainly stunning, Carmen is perhaps too artsy for its own good. The narrative often unfolds symbolically and it can be difficult to follow the bare-bones story. Not quite a musical, opera, or ballet, the balance to dramatic scenes adds a jarring quality of confusion. Segments of dialogue are too extended to feel like true opéra comique and lyrical sequences in the first act feel like outliers. However, many of the musical set pieces are simply breathtaking. Standouts include a percussive round of bare knuckle boxing and a midnight dance in an abandoned parking lot. Nicholas Britell's score is flawless, weaving in and out of themes inspired by the cultures of Mexico and the American West. 
Carmen is undoubtedly a gorgeous piece of filmmaking. Fluidly drifting from scene to scene amidst the moonlit streets and dusty deserts, we watch this doomed love story unfold as a beautiful dance between two mostly captivating leads. Millepied makes a meal out of every moment, sometimes lingering too long on the visual language to the detriment of narrative logic. But the sprawling story feels unwieldy and this version of Carmen may work better as a stage production. There's just a little too much left unsaid and it's occasionally difficult to pin down the story's internal logic. Thankfully, a flawless performance by Barrera, now poised to emerge as a major star, carries us through some of the film's more troubled waters. 
Jenn Adams is a writer, podcaster, and film critic from Nashville, TN. Find her social media nonsense @jennferatu.