The Wrath of Becky and the Hero We Need
Posted On May 30, 2023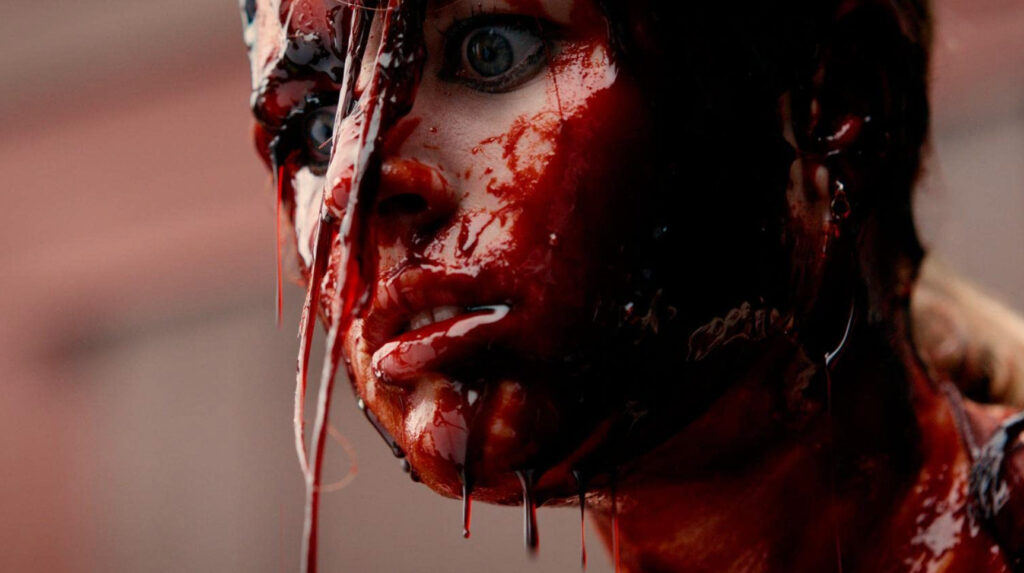 When the surprise hit Becky premiered in 2020 the world was in a low place. Covid was raging with no end in sight and we'd just lived through an insurrectionist attack on the U.S. capitol. With anger and fear swirling across the country, the story of a fourteen year old girl brutally taking out new-Nazis seemed to tap a nerve. We watched this bright-eyed blond teenager massacre a bunch of giant, racist men and we vented our own rage. We watched her mourn her parents and we found a way to grieve for our own loved ones. While 2023 feels marginally better, the real-life counterparts to the villains Becky fought in the original film have only gotten bolder. We've made peace with a lot of the immediate grief, but we're still pissed as hell. Enter Becky (Lulu Wilson) to once again help us channel our wrath.
Becky's sequel picks up two years after the attack on her family's cabin. She's run away from three foster homes and now rents a room with a kind old woman who doesn't seem particularly interested in her past. The unlikely housemates play a game each morning in which they list three things they're grateful for and Becky slowly begins to heal. When a group of misogynistic terrorists who call themselves the Noble Men (wink) harass Becky while she's waiting tables at the local diner, she indulges in a bit of well-deserved revenge that leaves these fragile men with bruised egos. Seeking revenge of their own, the violent jerks disrupt Becky's peaceful life and ignite a wrath she's spent two years struggling to contain.
Part of the original film's draw is watching this unassuming teen discover her own power, but The Wrath of Becky features a young woman fully confident in her killer prowess. After nodding to her knit fox cap, Becky suits up in a red jumpsuit decked out with weapons, and accessorized with cheeky patches, smudged eye makeup and a Skittle manicure. Though Becky has the confidence of a much larger fighter and takes risks well above her age and experience, she's not invincible. Directors Matt Angel and Suzanne Coote take pains to maintain some level of reality amidst the wish fulfillment revenge fantasy. Wilson is phenomenal in the role and exudes a charisma that's nothing short of magnetic. Having grown up in the horror genre, her latest film feels at times like a coming-of-age drama and we watch her transform from precocious adolescent to confident young woman before our very eyes.
Though Wilson is the unquestionable anchor of the film, her new foe brings his own magnetic appeal. Seann William Scott is terrifying as Darryl, leader of a Noble Men cell and stealthy insurrectionist. We can still see remnants of the loveable Stiffler, but now decades removed from the goofy, sex-obsessed character that made him famous, Scott has developed an eerie ability to turn on the terror. He plays the quietly menacing character with a detached and ominous politeness that barely conceals a seething rage. When he does let the anger loose, the effect is nothing short of terrifying, made even more so by Scott's power to draw us in with a bit of All-American charm.
Courtney Gains is also fun as Twig, Darrell's less polished henchman who carries a messier charm of his own. The veteran actor manages to find humanity and humor in a truly vile character that could easily come off as a one-note bigot. As a child of the 80s, I squealed with delight to watch Children of the Corn's Malachi return to the screen as another cult-leader's sergeant at arms and a subtle reference to the Stephen King classic is simply perfect. Jill Larson, best known in the horror world for her haunting performance in The Taking of Deborah Logan, makes a brief but chilling appearance as another resident of Becky's sleepy town. This is a film made by and for horror fans and reverence for the genre can be felt in every frame.
The Wrath of Becky wears its politics on its sleeve with direct references to a certain former president's frightening invitations to violence. Twig even sings a Noble Men theme song that prominently features the directive "stand back and stand by" and fluently speaks the reductive language of 4chan. As in the original film, Angel and Coote don't pull any punches, convincing us that Becky's wrath is more than justified. In addition to Darryl and Twig, the men featured in this film are unapologetically repulsive. They delight in aggressive misogyny and use vile ideology to mask a deep insecurity and fear of female power. Even the less sinister Sean (Matt Angel) earns little sympathy when he realizes way too late what his woman-hating friends are really up to. Five years ago, these extreme men's rights activists would have seemed contrived and unbelievable. Unfortunately social media offers more than enough evidence to prove that they are all too real.
Despite its dark subject matter, the film is a blast from start to finish. An opening scene misdirects with a cookie cutter Becky conning her way out of a sugary sweet foster family. This is followed by an opening credits sequence featuring hand-drawn comics chronicling Becky's adventures since we last saw her. The original film offered a surprisingly touching depiction of the anger that often accompanies grief and this new chapter hints at an authentic representation of PTSD. When Becky attacks, she relives moments from her parents' deaths. Presented as images from the first film, these flashbacks simultaneously recap her trauma while providing a glimpse into her still-healing psyche.
With its embrace of explosive rage and a "give no fucks" tone, The Wrath of Beck more than meets this particular moment in time. Angel and Coote deliver a bloody and cathartic film that goes down like a strong drink on a hot night. Becky is not a superhero and she's not invincible. She's just a girl who's sick of losing the people she loves. Her wrath is our wrath and we watch Becky dish out the liberating revenge we all wish we could get away with. The film's "hell yeah" stinger sets up an intriguing third installment that promises to tie up questions posed by the first film. Becky may be the hero we need at this moment and we can only hope that the world will be in a better place when we meet her again.
Jenn Adams is a writer, podcaster, and film critic from Nashville, TN. Find her social media nonsense @jennferatu.