"When I Consume You" is a Intimate Examination of Mental Illness
Posted On August 12, 2022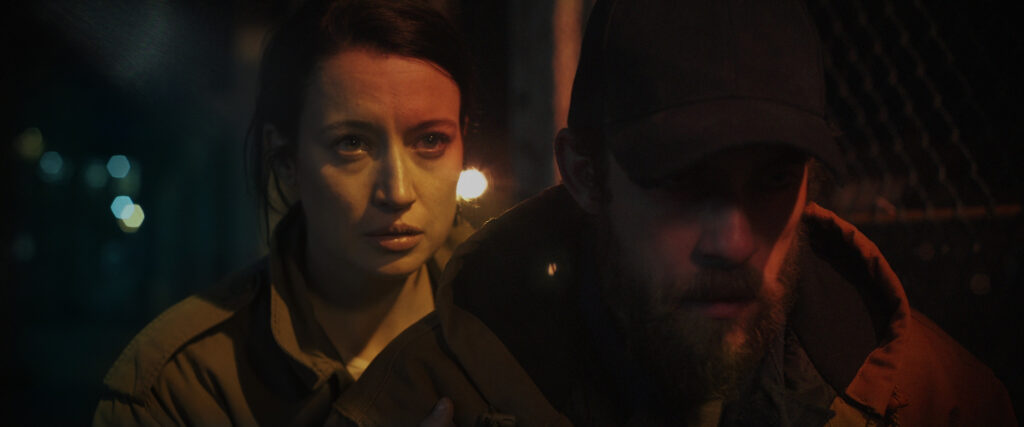 Many filmmakers have attempted to tackle the complex topic of mental health, but few have mastered the task like Perry Blackshear. His third feature film, When I Consume You, is an intimate exploration of humanity set against the backdrop of urban folklore. In what writer-director Blackshear has described as his darkest film yet, siblings Wilson (Evan Dumouchel) and Daphne Shaw (Libby Ewing) must band together to fight a demon that threatens to not only take their lives, but devour their souls. With an intimate style and a core cast of actors that feel like family, When I Consume You is a challenging but touching examination of the demons that haunt us all.
Daphne and Wilson Shaw have already survived against tremendous odds. Practically raising themselves after extreme childhood trauma, they've grown up protecting each other and offering support as they try to improve their lives. Daphne is in the process of adopting a child to provide the safety and love she was denied and Wilson is applying for a job as a teacher, hoping to guide future generations in a positive direction. But Daphne has a stalker she's been hiding from Wilson. A dark shadow that followed her home from the bars and nightclubs of her troubled past. Pulling herself out of that life means fighting against this demonic force, but it also means facing the temptation to slip back into oblivion and give up on her dreams of a happier life. When Daphne succumbs to the darkness, Wilson seeks revenge on the monster that killed his sister, but winds up becoming the new target of his deadly plan.
When I Consume You is not for the faint of heart. Blackshear presents a brutally intimate depiction of addiction and recovery as Daphne struggles to emerge from the shadows of her past. Wilson is visibly scarred from his traumatic childhood and has difficulty getting through the day on his own. Several scenes may be triggering to anyone whose life has been touched by mental illness, including panic attacks, intoxication, and a mysterious death that may be the result of an overdose. But these scenes are presented with such empathy and compassion that it's more likely those struggling with their own demons will feel an overwhelming sense of understanding and acceptance. The subject matter is incredibly dark, but love pervades every frame of the film and we never get the sense that Wilson or Daphne are ever truly alone.
Blackshear has assembled the core cast of his previous films They Look Like People and The Siren, adding Ewing to the tight knit ensemble. This familiarity creates a sense of trust that can be felt in every scene. Dumouchel plays the subdued Wilson with a striking vulnerability that draws you in. His resigned demeanor and the revelation that he sleeps underneath his bed is all we need to imply the horrors he's been through. As the stronger sibling, Daphne's attempts to support her brother are endearing given her own secret torment. Their emotional bond is the heart of the film and it's nearly impossible to watch their relationship unfold with a dry eye. MacLeod Andrews plays the mysterious monster with a devilish charm that hides an unnerving coldness. As a representation of the dark aftermath of trauma, he has been haunting the siblings for their entire lives constantly trying to drag their souls into oblivion. The demon takes many forms, but he is perhaps most terrifying as a friendly face or a stranger in the crowd. It's not until he's gotten his hooks into you that you realize how powerful he's become.
Ewing, Dumouchel, and Andrews all serve as producers on the film resulting in what feels like a labor of love between close friends. Tight framing shots and a handheld camera put us right next to the characters in some of their most challenging moments. Similar to found footage, this proximity creates the unique effect of pulling the audience into the experience of every scene. While this limited perspective or shaky style might prove frustrating with other stories, it perfectly compliments Blackshear's film about the intimacy of depression and addiction. We slip into the shoes of Wilson and Daphne and the close shots and moving camera make us feel like we are wandering the streets in search of salvation with them. It's a bold choice that pays off in spades as the powerful experience of watching this film is impossible to deny.
Blackshear alludes to the sibling's traumatic past without ever reveling in their tragedy, choosing instead to focus on their inspiring attempts to change their lives and fight back against the shadows that threaten to consume them. A single hand-drawn image of two frightened children in the mouth of a yellow-eyed monster perfectly conveys the horrors they faced in their childhood. By never defining his monster, Blackshear makes it possible for us all to see our own experiences in the trials of Wilson and Daphne. We dive into some of the darkest trauma imaginable without ever feeling like we're being mocked or exploited.
When I Consume You is a beautiful and haunting film that explores the reality of suffering and loss. It will likely resonate with anyone who has ever suffered from a mental illness, fallen into addiction, or who has lost a loved one to suicide. The specter of a dark figure who feeds on trauma is one many of us know very well. By resisting the temptation to over explain, Blackshear has created a film that speaks to the darkness that lurks within all of us. But When I Consume You is a testament to the light that lives within us as well. As long as we can find our way to each other, we can find our way out of the darkness.
When I Consume You will be available on VOD platforms on August 16th.
Jenn Adams is a writer, podcaster, and film critic from Nashville, TN. Find her social media nonsense @jennferatu.